The theme of this year's Met gala was "In America: A Lexicon of Fashion," centered on American style and independence. Individual tickets to the Met run upwards of $30,000 while full tables are over $275,000 and typically major designers or fashion houses will buy them and invite the celebrities they're dressing for the night, making it difficult for up-and-coming designers and stars to make an impact at the event, which is referred to as "fashion's biggest night." That makes what Hamilton did especially powerful: The seven-time world champion bought his own table and invited four young Black designers as his guests.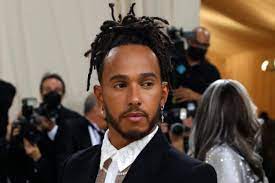 Red carpet host Keke Palmer asked Hamilton how his outfit tied into this year's theme and he said that he felt "really, really fortunate" that Vogue Editor-in-Chief Anna Wintour agreed to host his table. "I've brought four incredible, young, Black talented designers," he said, "so we've got a great host of people tonight and it's about just highlighting beauty and excellence and talent."
Accompanying Hamilton was American designer Kenneth Nicholson, who created a custom suit complete with a lace calf-length shirt. In an Instagram post, Hamilton said Nicholson's "craftsmanship and point of view advances menswear in truly inspiring ways." Along with Nicholson and superstar stylist Law Roach, other attendees with Hamilton were designers Theophilio and jason Rembert,model Alton Mason singer Kehlani and athletes Miles Chamley-Watson Sha'Carri Richardson.
Talking about his work in F1 and how it influenced him to purchase the table, Hamilton said, "I realized it's very similar within the fashion industry. A lot of brands, young designers don't have the same opportunities and the Met is the biggest fashion event of the year. In this theme, I wanted to create something that was meaningful and it's something that will start and spark a conversation. When people see us all together, it will put these Black designers at the top of peoples' minds."