Cucumbers are low in calories but high in many important vitamins and minerals.
Eating cucumbers may help support regular bowel movements. Dehydration is a major risk factor for constipation, as it can alter your water balance and make the passage of stool difficult. Cucumbers are high in water and promote hydration. Staying hydrated can improve stool consistency, prevent constipation and help maintain regularity. Moreover, cucumbers contain fiber, which helps regulate bowel movements.In particular, pectin, the type of soluble fiber found in cucumbers, can help increase bowel movement frequency.
Cucumbers could potentially help you lose weight in a few different ways. First of all, they are low in calories. Each one-cup (104-gram) serving contains just 16 calories, while an entire 11-ounce (300-gram) cucumber contains only 45 calories. This means that you can eat plenty of cucumbers without packing on the extra calories that lead to weight gain. Cucumbers can add freshness and flavor to salads, sandwiches and side dishes and may also be used as a replacement for higher calorie alternatives.
Furthermore, the high water content of cucumbers could aid in weight loss as well. Water is crucial to your body's function, playing numerous important roles . It is involved in processes like temperature regulation and the transportation of waste products and nutrients.
In fact, proper hydration can affect everything from physical performance to metabolism.
While you meet the majority of your fluid needs by drinking water or other liquids, some people may get as much as 40% of their total water intake from food.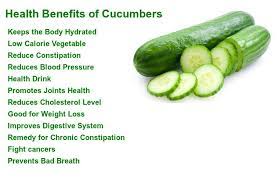 Fruits and vegetables, in particular, can be a good source of water in your diet